A review of our stay and experience at La Mamounia Hotel in Marrakech
---
Located in the heart of the old city of Marrakech (facing the Atlas Mountains), La Mamounia Hotel offers a luxury oasis in a city that never sleeps.
The Moroccan palace-turned-hotel was established by Sultan Mohammed ben Abdallah. It was a gift to his son in the 18th century.
The hotel opened its doors to guests on April 1st, 1929. Since it's opening it has received many notable guests. Winston Chuchill reportedly described La Mamounia in a letter to his wife. He writes "This is a wonderful place, and the hotel is one of the best I have ever used".
Walking through the walls of the former palace, it's easy to see why.
Other notable guests include Nelson Mandela, Ronald Regan, Charlie Chaplin and more. Many films and photoshoots have also taken place on La Mamounia's beautiful grounds.
The architecture is beautiful, with intricate details that make this property one of the most famous hotels in all of Morocco. From its luxurious rooms to its five star service, La Mamounia Hotel is an exquisite desert getaway for visitors looking to escape the hustle and bustle of the city.
We had the privilege of staying at La Mamounia Hotel during our visit to Marrakech.
La Mamounia Hotel Review – Our Experience
We arrived through the large front gates of the hotel and walked through the small courtyard to meet the concierge.
The staff at the door were dressed in traditional attire. It felt like something straight out of a movie. We were immediately swept away in the magic of it all.
We were led towards the front desk and assisted by another very friendly staff member.
The check in process was seamless. We sat on plush velvet chairs and were treated to a cup of Moroccan tea as we waited be checked in.
Once check in was complete, our bags were taken to our room. We were given a quick tour of the room before we were left to explore on our own .
From our research on Instagram and Youtube, we knew that there was a lot to see. We promptly freshened up and rushed back downstairs to begin exploring the grounds.
La Mamounia Hotel is more beautiful than any of the pictures or videos could capture.
I knew that the hotel had won multiple awards including the Conde Nast Traveller Readers Awards, the Best Hospitality Heritage Hotel, even getting the Worlds Best Hotel Website award in 2021.
Our experience far exceeded our expectation.
I would highly recommend making this a place to see when you visit Marrakech. If you are unable to spend the night, you can visit one of the many restaurants or the spa to get a taste of this beautiful hotel in Marrakech.
Location
Nestled at the edge of Marrakech's old city, La Mamounia Hotel is hidden within stunning gardens, just inside the walls of the medina .
The hotel is located on a main road, which means it's easy to get around and explore the city.
It is steps away from Jemaa el-Fnaa square, and walking distance to many of the city's major attractions. These include the Saadian tombs, Bahia Palace, Koutoubia Mosque and more.
If you're looking for an escape within walking distance (or short taxi ride) to all that this city has to offer, La Mamounia Hotel is the perfect place for you.
The Architecture
The architecture is unlike anything I have ever seen before. It was designed by Henri Prost with the help of Antoine Marchisio in 1923 and has undergone several renovations since.
The hotel marries traditional Moroccan with art deco to create an exquisite escape for travellers looking for luxury in one of the most beautiful cities in Morocco.
La Mamounia hotel was designed with marbled elegance and sophistication in mind.
From its lush gardens to its luxurious rooms, La Mamounia is filled with intricate details you will appreciate during your stay (and Instagram photos).
What I enjoyed most was that every corner you turn, you are greeted with an exquisite view. In a city with so many beautiful sights to see, I would class La Mamounia Hotel as one of the most Instagrammable places in Marrakech.
Guest Rooms
La Mamounia Hotel has 135 rooms, 71 suites and 3 riads available for guests looking for accommodations during their stay in Marrakech.
Each of these beautiful suites have unique designs. They each feature traditional Moroccan decor as well as modern amenities such as air-conditioning, WIFI access, flat screen TVs and electronic safes among other things.
Many of the rooms offer spectacular views. From our room, we could see the Koutoubia Mosque in the distance.
The rooms are not very big, but they more than make up for it with their marbled bathrooms and floor-to-ceiling windows. La Mamounia Hotel has several types of accommodations ranging from standard to luxury suites that will suit any budget or style preference.
If you are looking for a more luxurious experience, I recommend staying on one of La Mamounia's top floors (where rooms boast views of Marrakech) or booking a suite with its own private terrace overlooking the marbled landscape below.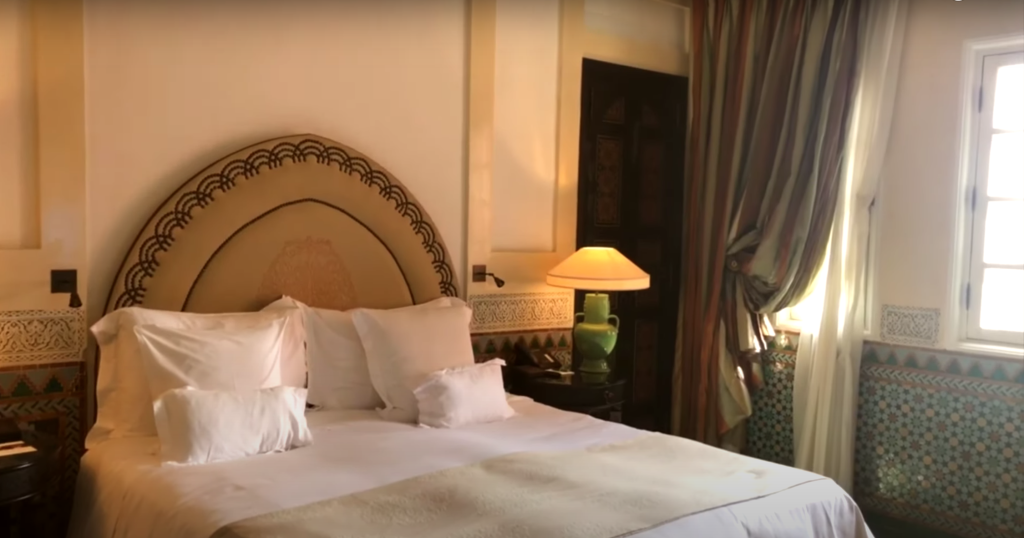 The Service
La Mamounia Hotel did not disappoint when it came to service. From check-in to check-out each staff member we encountered was professional and very attentive.
Dining
La Mamounia Hotel has one of the most popular restaurants in all of Morocco.
There are so many amazing places to eat in Marrakech, so we ended up not getting a chance to dine at any of the restaurants on the premise.
If we are blessed to visit Marrakech again, I would jump at the opportunity to stay at this hotel for longer, and really take in more of what this hotel has to offer.
For your information, the 4 restaurants on the premise are:
Pool/ Spa
There's a little bit of everything for everyone when you visit La Mamounia. There are 2 pools on premise- open 24 hours.
The indoor pool is an oasis where you can relax after a traditional hammam spa treatment. The spa complex is located just below the pool with 13 treatment rooms, a beauty studio and a fitness pavilion.
The outdoor pool is equally as spectacular especially considering that just beyond the walls of the compound is the usual hustle and bustle of downtown Marrakech.
The pools are opened from June to September, at the discretion of weather conditions.
Spa hours: 09:00 AM – 12PM / 06:00 PM-08:00 PM (closed on Fridays).
Bookings are required in advance with an extra cost for massages & treatments available upon request.
Children under 16 years old cannot access spa facilities without adult supervision due to insurance policy limitations.
The hotel also has a health club that is is accessible from Monday until Saturday between 08:00 AM – 11:00 PM. The hours are subject to availability and can be closed during certain periods for maintenance or special events.
Dress Code
One unique thing about La Mamounia is the fact that you must observe their dress codes.
The Official website states that "An elegant dress code is required in all public areas". No shorts for gentlemen after 6PM.
Shopping
La Mamounia Hotel is home to the several high end retail stores. You'll find everything from everything from expertly crafted Moroccan designs to well known luxury brands like Yves Saint Laurent and Dior.
If you're visiting La Mamounia, you'll have to visit these stores (even if it's only for some window shopping).
Final Thoughts
Overall, our experience at La Mamounia was memorable and one that will always hold a special place in my heart.
I would highly recommend this hotel. Not only for its service and dining but also to experience the stunning views and architecture.
Our stay at La Mamounia was definitely one of the highlights of our trip.
PIN TO PINTEREST
Found this La Mamounia hotel review helpful? Please use one of the images below to pin to pinterst and share with your friends!