The Rimrock Resort Hotel is an upscale hotel located in downtown Banff.
With elegant interior, a fine section of restaurants options, a luxury spa, and breathtaking views from every window, the Rimrock Resort Hotel has a lot to offer. We chose to stay at this location for our first trip since our son was born. He had just turned 2 and we felt comfortable leaving him for one night with his grandparents while we sought a well deserved break.
The hotel itself has been around since the early 1900s when it was known as The Rimrock Inn.
In 2015, it was voted the fifth best hotel in the entire province of Alberta, so as you can imagine, we were excited to be able to stay there during our recent 24 hours in Banff visit.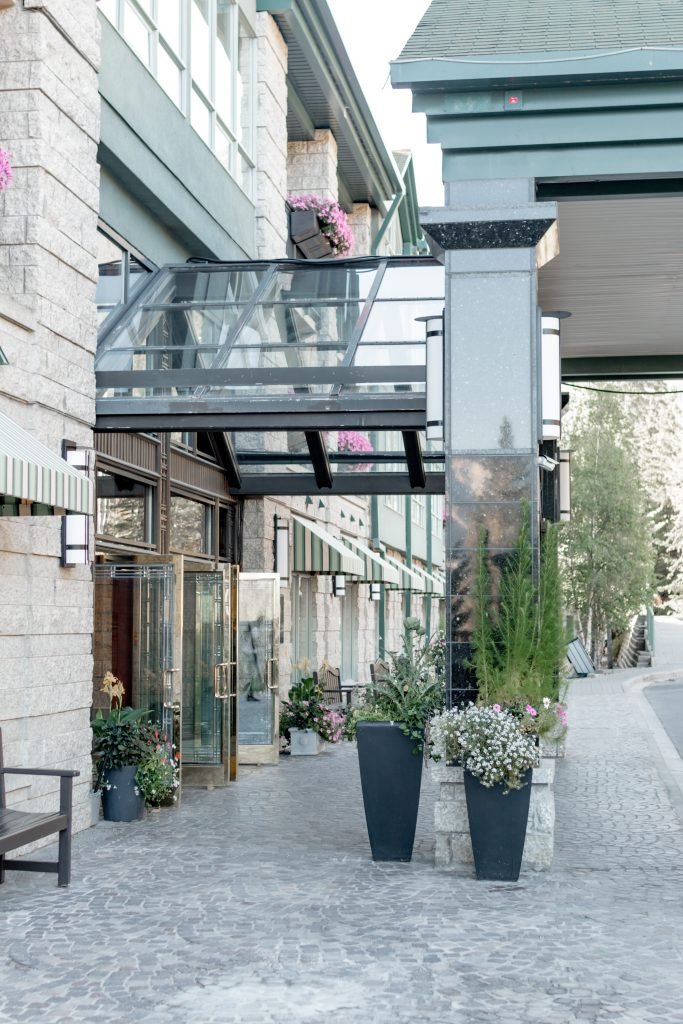 Rimrock Resort Hotel Details
Location
The Rimrock Hotel is a scenic resort with easy access to Banff, Calgary International Airport and the Trans-Canadian Highway. It's just 1.5 hours west of Calgary where you can rent a car or take coach services into town.
Getting to the Hotel is easy as it is a short drive from the Trans-Canadian Highway.
The Rimrock Hotel sits high on Sulphur Mountain in the heart of Banff, with an easy walk to many of the town's attractions.
The hotel is also just a short 8-minute walk to the entrance of the Banff Gondola- one of the main attractions for tourists to experience in the town of Banff.
For the tourist looking for an escape from the usual hustle and bustle of downtown Banff, Rimrock Resort Hotel is an ideal location.
The hotel is just a 5 minute drive away from the downtown shops and restaurants making it possible to explore and then retreat to the more serene hotel grounds.
The Rimrock Resort Hotel also provides some of the most magnificent views of Banff. Waking up to the views of the mountain was one of the highlights of our stay.
Staying At The Rimrock Resort Hotel
The Rimrock Hotel is a luxury hotel with a lot to offer guests who chose to stay there.
We stayed in one of the 333 guestrooms with a spectacular view of the mountains.
We found Rimrock's service to be excellent. All staff we encountered were polite and willing to go the extra mile for any request that we had.
Rimrock also offers complimentary coffee in the lobby throughout the day which is nice touch.
Overall, The Rimrock is a fantastic hotel that would be perfect for a family vacation, couples getaway, or even just visiting the area to ski and explore Banff National Park. Rimrock has it all!
Rimrock Resort Hotel Parking
The Rimrock has a parking lot on site. When you arrive by car at the front entrance, you'll be greeted by a bellhop, who will point you to where the parking lot is.
As a hotel guest, you'll be given two options- valet or self park.
If you would prefer to valet park your car, the bellhop will take your bags and park the car for you.
To self park, you'll drive around the hotel and enter the heated indoor parking stalls. The garage is large, and you shouldn't have trouble finding parking.
It's important to note that the hotel reception is on the 7th floor of the hotel. When you park, you'll need to remember this so that you exit the parking garage on the right level.
The cost for parking is $22 per day for self-parking and $36 per day for valet.
Oversized vehicles such as trailers or boats pay $60 per day. There are also limited spots available for Riverside vehicles, so I would recommend that you call in advance if you plan on using their space.
Hotel Amenities
The Rimrock is one of Banff's most celebrated hotels because it doesn't offer just the basics.
Rimrock goes above and beyond to make your visit an unforgettable experience, which is exactly what you want when visiting Banff National Park.
Rimrock Resort Hotel's amenities are top-notch. With a beautiful indoor heated pool, hot tub, steam room, sauna, full service spa, and a fitness center on-site, you really don't have to leave the hotel premises to have a good time.
Dining At Rimrock Resort Hotel
Rimrock Resort has a number of dining options available for guests. There are two restaurants on-site (Primrose and Eden), two lounges (Larkspur and Divas), a coffee shop, and the in-room service.
These restaurants are a convenient choice for those guests who want to dine in the hotel during the stay.
Primrose
Rimrock's Primrose Restaurant offers a beautiful atmosphere that makes sense considering its location on the ground floor of Rimrocks Mountain Avenue entrance. The restaurant serves both breakfast and dinner.
The menu is Canadian inspired, with fresh ingredients that are locally sourced.
Eden
The Rimrock Resort in Banff is also home to one of only three Canadian 5 diamond restaurants- Eden.
Rimrock's Eden Restaurant is open only for dinner and offers an exquisite dining experience with scenic views of Banff.
The menu can be described as diverse, playful and imaginative with items that are sure to please the palates.
Larkspur Lounge
Larkspur Lounge is located in the main lobby of the hotel. It is incredibly beautiful and like many of the spaces in the hotel, offers brilliant views of the mountains.
You can choose to sit indoors as you enjoy a tasty cocktail by the fireplace or you can take in the views from the patio.
You can also enjoy music from a live pianist 5 nights a week in the winter (2 nights a week in summer).
Divas
Divas offers a friendly and relaxed atmosphere to enjoy while you sip on your cocktails. You can also sample the selection of sharable meals listed on the menu.
Room Styles and Interior
Rimrock offers luxury hotel suites that are spacious and well-equipped for business or family travellers on vacation.
They offer guest rooms with an elegant feel, plush robes in the closet, and a bathroom highlighted by double vanity basins.
Rimrock Resort Rooms are designed to make you feel welcome from the moment you enter with champagne on ice in your room, comfortable lounge chairs for relaxing after an eventful day exploring Banff National Park. The staff at Rimrock have thought everything through.
If you choose to stay at The Rimrock Hotel, you'll have a wide array of room types to choose from. From the standard rooms to the infinity suite, you can find a room style that fits your style and budget.
We knew that we wanted a room with a mountain view, so we opted for the 'Premium' guest room with a view.
I could certainly get used to waking up to views of the peaks.
Final Thoughts
Overall Rimrocks was an amazing experience with beautiful views, great staff, and a comfortable stay. Rimrock Resort Hotel In Banff is highly recommended for travellers looking to explore the beauty of Canada's Canadian Rockies!