The ultimate vacation packing list for the entire family
---
Are you planning a vacation for the family and wondering what to pack?
Before we had children, packing for vacation meant throwing things together the night before the trip.
Packing for a vacation with kids… can be quite overwhelming.
There's nothing worse than arriving at your destination and realizing you forgot to pack your child's favourite sippy cup, knowing that he'll throw a tantrum if you dare ask him to drink from any other cup.
If you're nervous about packing for your family, just know that you're not alone.
There's a fine line between forgetting your essentials and having to lug an entire suitcase of items that you could have just purchased when you arrive at your destination.
We've done many trips as a family over the last 3 years and have learned a thing or two about packing for the entire family.
We've made mistakes, forgot things, and over packed on occasion.
After a few years of trial and error, I've created a vacation packing list to help me pack for the entire family.
To make things easier, we've broken down the list into categories that everyone in the family should pack. I've also added specific items to consider for children of various ages.
From clothing, toiletries and beach essentials, to toys and entertainment for the kids – this packing list will ensure that you have everything you need for your next family vacation!
Here's the ultimate packing list to make sure you don't forget anything while packing for your upcoming family vacation.
Asking The Right Questions
While it's important to use a comprehensive packing checklist like the one detailed below, it's also important to be selective about what to pack.
You need to start by asking yourself a few questions about your trip.
By reviewing the answers to these questions, you should be able to narrow your focus, and pack more efficiently.
Questions to ask yourself before you start packing:
– What type of activities are you planning on doing?
– What types of environments will you be in (hot/cold, wet/dry)?
– Will you need any special clothing or equipment for the activities planned?
-Will we able to do laundry while on the trip?
Once you've answered these questions, you're ready to use this family packing checklist as a starting point to start packing!
Clothing
Clothing is usually the biggest category when it comes to packing for a vacation. It's also what will take up the most space in your suitcase!
The exact items you'll need will depend on the type of activities and weather you're expecting. Here are a few staples to pack for everyone in the family:
Tops
Shorts/skirts/dresses
Long pants (jeans, khakis)
Swimwear
Over-layers such as sweaters or jackets to keep warm in cooler temperatures
Shoes – make sure that all family members pack at least one pair of comfortable shoes.
Sandals
Underwear
Socks
Pyjamas
Ties/ Scarves/ Belts
Purses/ Handbag
Jewelry
PACKING TIP: When packing for myself, I like to pack a lot of dresses as these require less thought in terms of layering and mixing & matching.
When packing for my kids, I also make sure to pack entire outfits. Every top packed must pair well with one pair of shorts or pants. This ensures that no matter what, the kids' outfits will look put together and cute. It also ensures that every item packed serves a purpose. I hate packing something to realize when you reach the destination, that there's nothing to pair it with.
Don't forget to pack a spare change of clothes in your carry on bag just in case your luggage gets lost!
Packing cubes are an absolute must when packing for multiple people. They help keep everyones clothes organized and separated.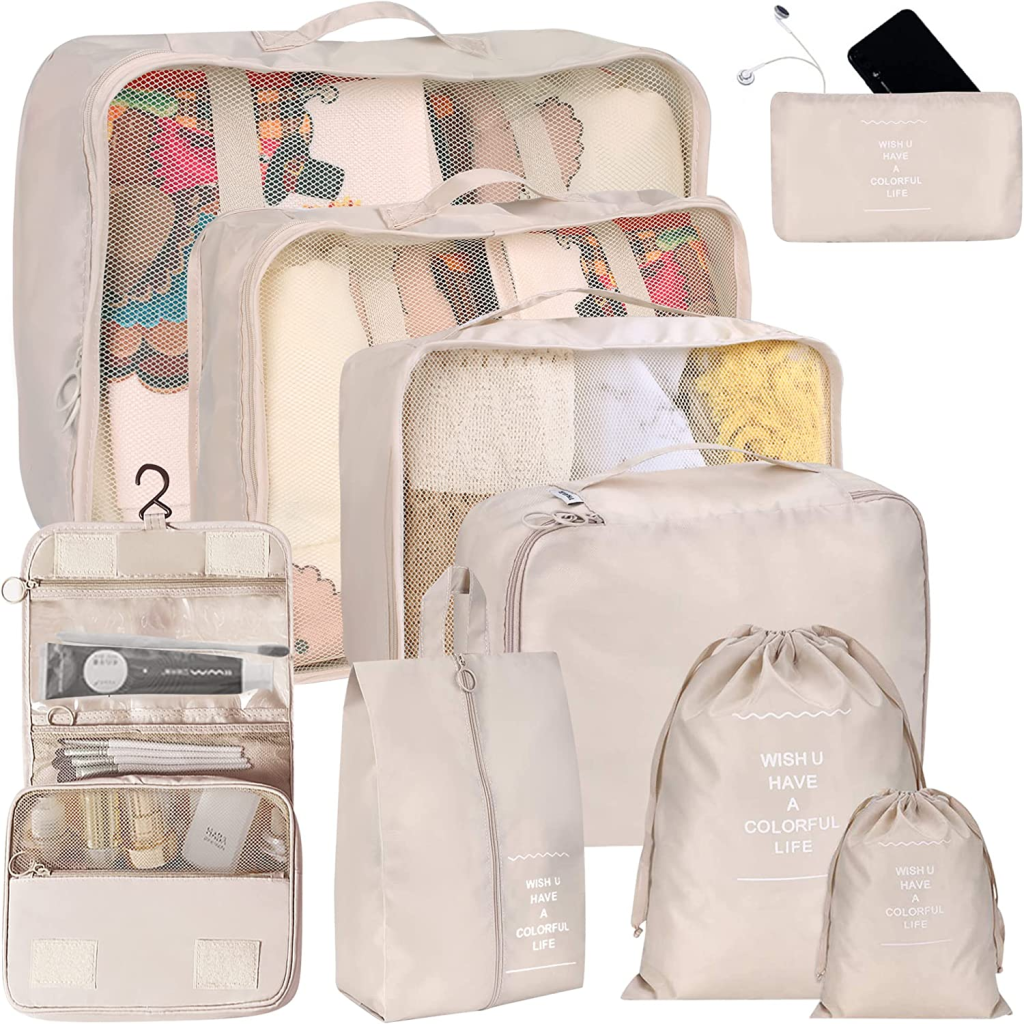 Outdoorsy Essentials
Most vacation destinations will have some components of outdoor activity.
Whether you're going hiking, visiting the beach or just stepping out to go sight seeing, there are some essentials you'll want to pack.
Sunscreen: A must for any outdoor activities. Make sure to choose a sunscreen with high SPF and broad-spectrum UV protection. Don't forget to pack sunscreen thats appropriate for your kids as well.
Hats/sunglasses: For additional sun protection. This is especially important when travelling with small children under the age of 6 months who you cannot apply sunscreen to.
Insect repellent: This will come in handy if you are travelling to a tropical or humid destination where mosquitoes abound.
Water bottles: Make sure each family member has their own water bottle.
If you are going to a cold destination, don't forget to pack:
Coats
Hats and mittens
Scarves
Toiletries & Makeup
When it comes to toiletries, the rule of thumb is to keep things minimal. What you choose to pack may also depend on your destination and the resources they have available.
For instance, if you plan to stay in a hotel, you may choose not to pack body wash as most hotels provide that.
Shampoo and conditioner
Body wash or bar soap
Deodorant/ body spray/ perfume
Body lotion
Toothbrush/toothpaste
Mouthwash/ floss
Comb/ hair brush
Skin cleanser
Moisturizer
Towel- you may need this depending on where you will be staying. If you plan to spend most of your time in a hotel, you probably don't need to pack towels as most hotels provide clean towels that can be changed daily. If however, you don't feel comfortable using hotel towels or you are visiting friends or staying somewhere where towels are not provided, make sure you pack enough for each family member.
To save space with your toiletries, consider packing in travel-sized containers, or using refillable bottles.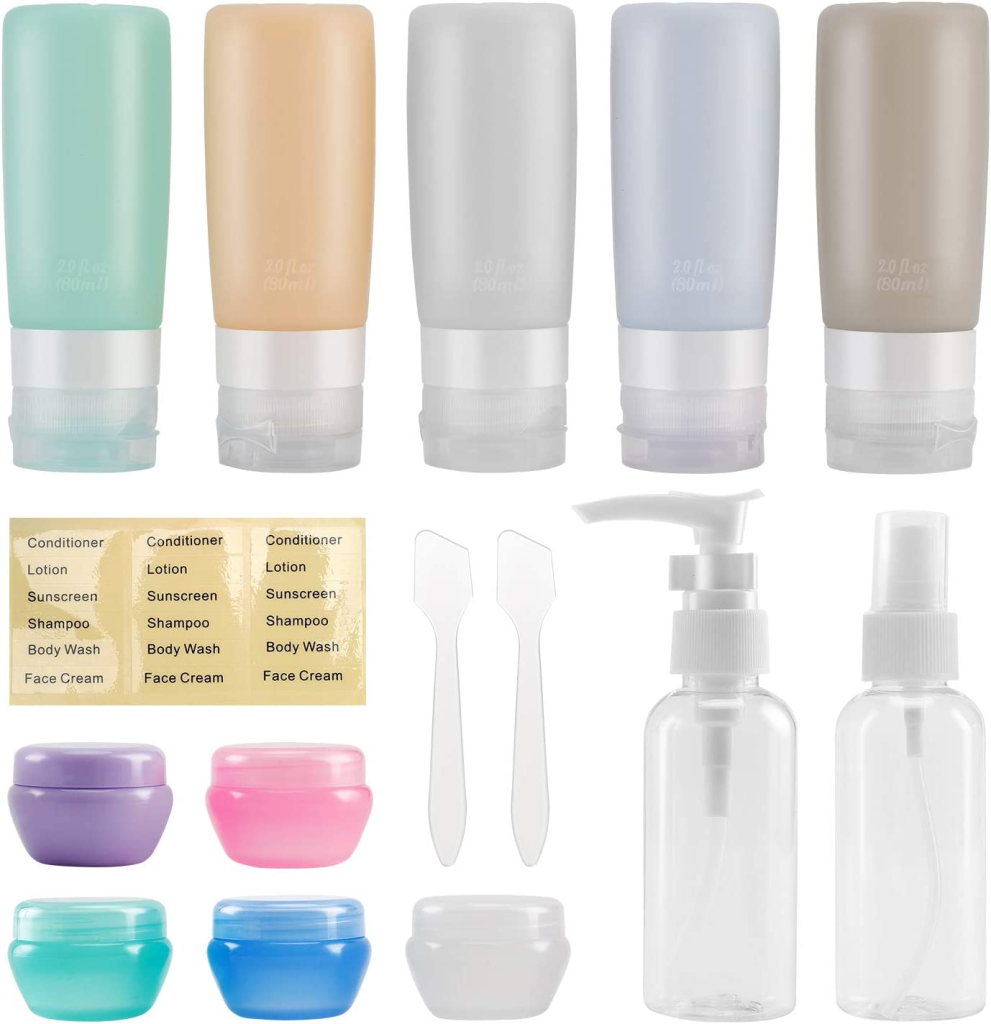 Makeup
I like to keep my makeup minimal when I travel, so I take only the essentials. If I am traveling for an event or I know I have something big planned (like a wedding) where I'll need a full face of makeup, then I'll pack accordingly.
Here are just the basic makeup items you don't want to forget when creating your packing list.
Foundation
Concealer
Brow pencil
Eyeshadow
Eyeliner
Mascara
Lipstick or lip gloss
Powder
First Aid & Medical Supplies
It's always a good idea to pack a few medical supplies and over the counter medications just in case. The last thing you want is to be stranded in a foreign country , feeling unwell and not knowing where to go.
Some items you may want to include are:
Health insurance card
Tylenol or Ibuprofen (for children and adults)
Gravol for motion sickness
Melatonin gummies (to help with sleep / jetlag)
Thermometer
Benadryl for allergies
Bandages & first aid ointment
Hand Sanitizer
Disinfectant wipes
You can add to this list based on your families circumstances. For instance if you or any of your children are on any other medications at the time of travel, make sure to include them in your packing list.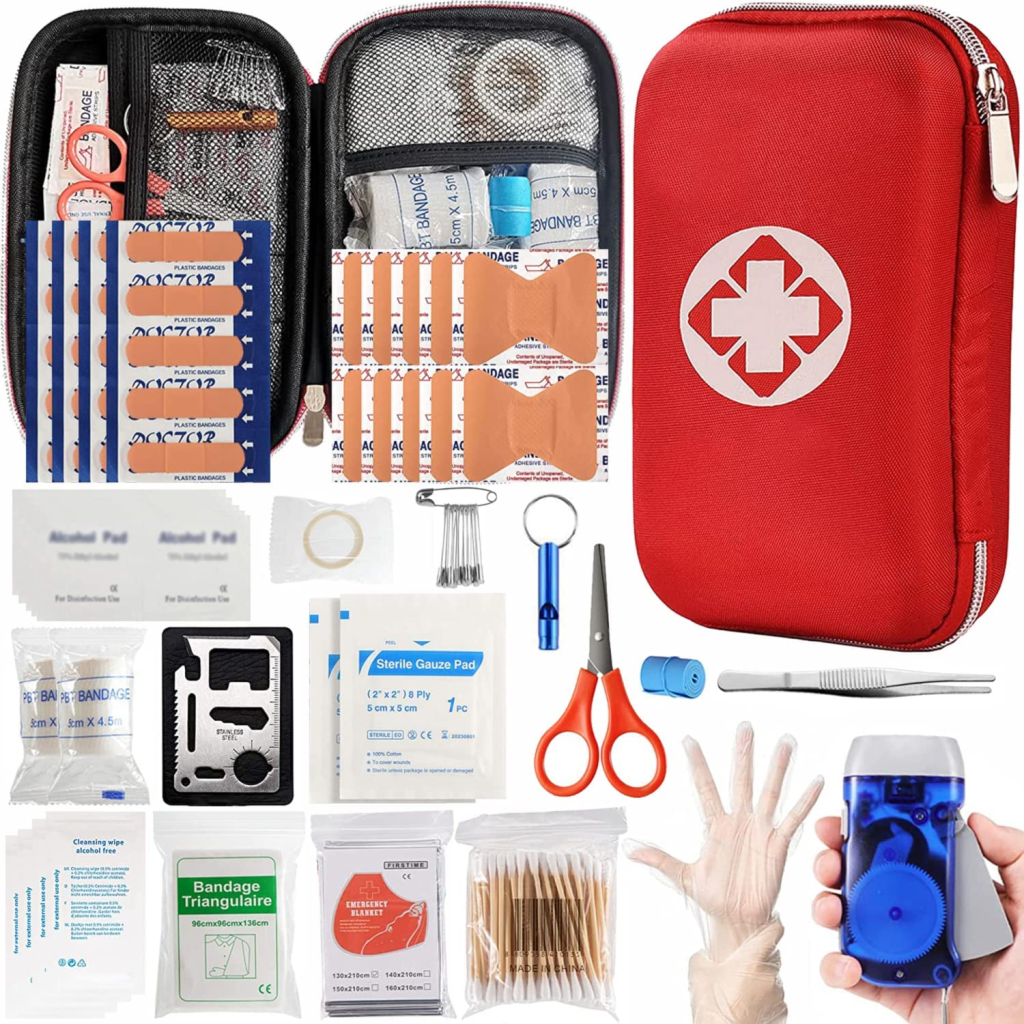 Personal Items
Don't forget to pack items for each family member that will help make the trip more enjoyable.
Some items you might want to consider are:
Camera & charger
Phone, tablet & chargers
Books, magazines or other forms of entertainment
Headphones
Snacks (if allowed on flights)
Wallet
Passport & travel documents
Glasses
Watch
Packing When Traveling With Children
Kids have a lot of stuff!
Packing for children can be stressful, particularly if they are young. They need so much, and depending on their age, it's sometimes hard to know what they might need when you're away from home.
It's important to have items that will make them comfortable and entertained throughout the trip. You might be tempted to pack everything for every potential situation. However, that needs to be balanced with resisting the urge to overpack.
The exact items that you'll need depend on the age of your child, your destination, they type of accommodation and more.
As a general rule, I recommend when traveling with kids to stay somewhere you can mimic your home environment as much as possible.
This could mean staying with friends and family or booking an air bnb instead of a hotel that doesn't have a kitchen. This will make the transition easier for you as well as the kids.
Extra Packing Supplies For Infants
When packing for an infant, some items that are great to include:
Diaper bag
Changing mat
Diapers & wipes
Plastic bag for soiled diapers
Diaper cream
Baby carrier
Strollers & car seat (depending on your destination)
Bottles & sippy cups
Baby feeding supplies (bibs, spoons, bowls)
Formula or breast milk
Breast pump (if pumping)
Blankets
Swaddle or sleep sack
Plastic bag for soiled clothes
Pacifiers
Pacifier wipes
Pacifier clips
Toys and books for entertainment
Packing Tip: Diapers can almost always be purchased at your destination. 
Of course this may not always be the case. For instance when you are traveling somewhere it'll be hard to find the brands and quality you are used to, it's better to pack enough diapers for the duration of the trip. It'll take up a lot of space, but at least the don't weigh a ton.
This was the case when we travelled to Nigeria. We ended up packing our own diapers. It took up a lot of space in the suitcase, but we knew that we wouldn't have to compromise or pay a premium for the brands that we were used to.
Extra Packing Supplies For Toddlers
Packing for toddlers can be quite different than packing for infants.
Here are some items you may want to consider adding for a toddler:
Snacks
iPad/ Tablet for entertainment
Headphones
Colouring books, crayons & stickers
Water bottle
Floaties (if planning on going in the water during the trip)
Time To Pack
Now that you have your packing checklist for the entire family, it's time to get packing.
Here are some extra packing tips to help you:
When packing, try to leave the heaviest item of clothing/ shoes to wear on the plane.
Pack any liquid items in a sealed bag to avoid leaking.
Pack separate bags for dirty and clean clothes that are easy to identify when you unpack at your destination.
Roll your clothing as opposed to folding them, which saves space and prevents wrinkles.
Place an extra set of clothes (including underwear) in everyone's carry on luggage. That way you have something to wear if your bags go missing.
I hope you'll find these tips helpful.
Happy travels and have fun!