Are you planning on visiting New York City for the first time? If so, there are a few things you need to know before you go!
It's no surprise that New York is a huge city with plenty of things to see and do. Your first time visiting New York can be a little overwhelming.
We've put together this list of 10 tips to help make your visit go smoothly. Keep reading for advice on where to stay, what to eat, and how to get around town!
Things To Know When Preparing For Your First Trip To New York City
Pack comfortable walking shoes
One thing that I learned my very first time in New York is just how much walking New Yorkers do.
No matter where you're staying, chances are you'll be doing a lot of exploring on foot. Make sure to pack a good pair of comfortable walking shoes!
You'll thank me later when your feet aren't killing you after a long day of sightseeing.
Check the weather and pack accordingly
The weather in New York can be pretty unpredictable, even during the summer months.
One day it could be hot and humid, and the next it might be cool and rainy.
My best advice is to check the forecast before you pack, but still, be prepared for anything!
If you're visiting during the winter, make sure to pack a warm coat, hat, and gloves.
Make A Plan Before You Arrive
There's a lot to see and do in New York City, so it's important that you plan ahead otherwise you'll end up wasting valuable time deciding what to do once you're already there.
I recommend making a list of the top attractions or activities that you want to do. Once you have an idea what you want to do/see, yuou can consult a guidebook or website (like Time Out New York) to help you plan your days.
Keep in mind that some attractions, like the Empire State Building or the Statue of Liberty, require tickets in advance so be sure to plan ahead!
When To Visit New York
You may be wondering when the best time to visit New York City is. The great news is that there's really no bad time to come!
The city is always bustling with energy and there's always something to do, no matter what time of year it is.
That being said, if you're looking to avoid the crowds (and save some money on hotels), I would recommend visiting during the shoulder seasons of spring or fall.
You'll still be able to enjoy all the best that New York has to offer without dealing with huge crowds of tourists.
When you choose to visit may also depend on what you want to do while you're there. If you're interested in doing a lot of sightseeing and spending time outdoors, you may want to visit during the spring or fall when the weather is nicer. You can enjoy long walks in Central Park or explore any of the city's many farmers markets.
However, if you don't mind braving the cold and you're interested in festive holiday activities, then winter might be the best time for you to visit. You can go ice skating in Rockefeller Center, see the world-famous Christmas tree at Rockefeller Plaza, or do some holiday shopping at any of the city's department stores.
Getting Into New York
There are a number of ways to get to New York. If you are looking to fly into the city, you'll likely be doing so via one of the three airports that serve the NYC area: JFK (John F Kennedy) airport, Newark airport, or LaGuardia.
JFK
JFK is the largest of the three and is approximately 15 miles from midtown Manhattan.
There are a few different transportation options available to get into the city from JFK, including the AirTrain + subway, taxi, uber or private car service.
There are also shuttle buses available (NYC Express Bus or Go Airlink NYC) which can take you to various locations in Manhattan.
LaGuardia
LaGuardia is New York's second largest airport located on the Northshore of Queens, about eight miles from midtown Manhattan.
Like JFK, there are a few ways to get into the city from LaGuardia including taxi, uber or private car services.
You can also take the Q70 bus to the subway if you're looking for a cheaper option.
Newark
Newark is located in New Jersey and is about 16 miles from Manhattan.
The best way to get into the city from Newark is via the AirTrain + subway, taxi, uber or private car service.
There is also a Newark Liberty Airport Express Bus that goes to various locations in Manhattan.
The decision over which mode of transport to take into the city will depend on a number of factors, including how much luggage you have, how many people are in your group, and of course, your budget.
If you're taking a taxi or car service from any of the airports, be aware that there is a flat rate fee to get into Manhattan which is currently starts at $52 for JFK, $29-$37 for LaGuardia and $50- $75 for Newark. These fees are in addition to any tolls you may incur along the way.
Getting Around New York City
Once you're in New York, you'll need to figure out how to get around.
The best way to do this will depend on where you're staying and what your plans are for your trip.
Use public transportation
The best way to get around New York is by foot or by using the city's public transportation system.
The subway is fast, efficient, and relatively cheap (a single ride costs $2.75. You may also get a discount if you purchase a MetroCard, which allows you to ride the subway and buses).
The only downside to the subway is that it can be a little confusing for first-time visitors.
But don't worry, you'll quickly get the hang of it!
In addition to the subway, New York also has an extensive bus network.
Buses are generally slower than trains but can be a great option depending on where you are traveling to.
A great way to plan your trip is by using the tool Rome2Rio.
Just enter your starting point and destination and it will show you all the different transportation options available, as well as the estimated cost and travel time for each.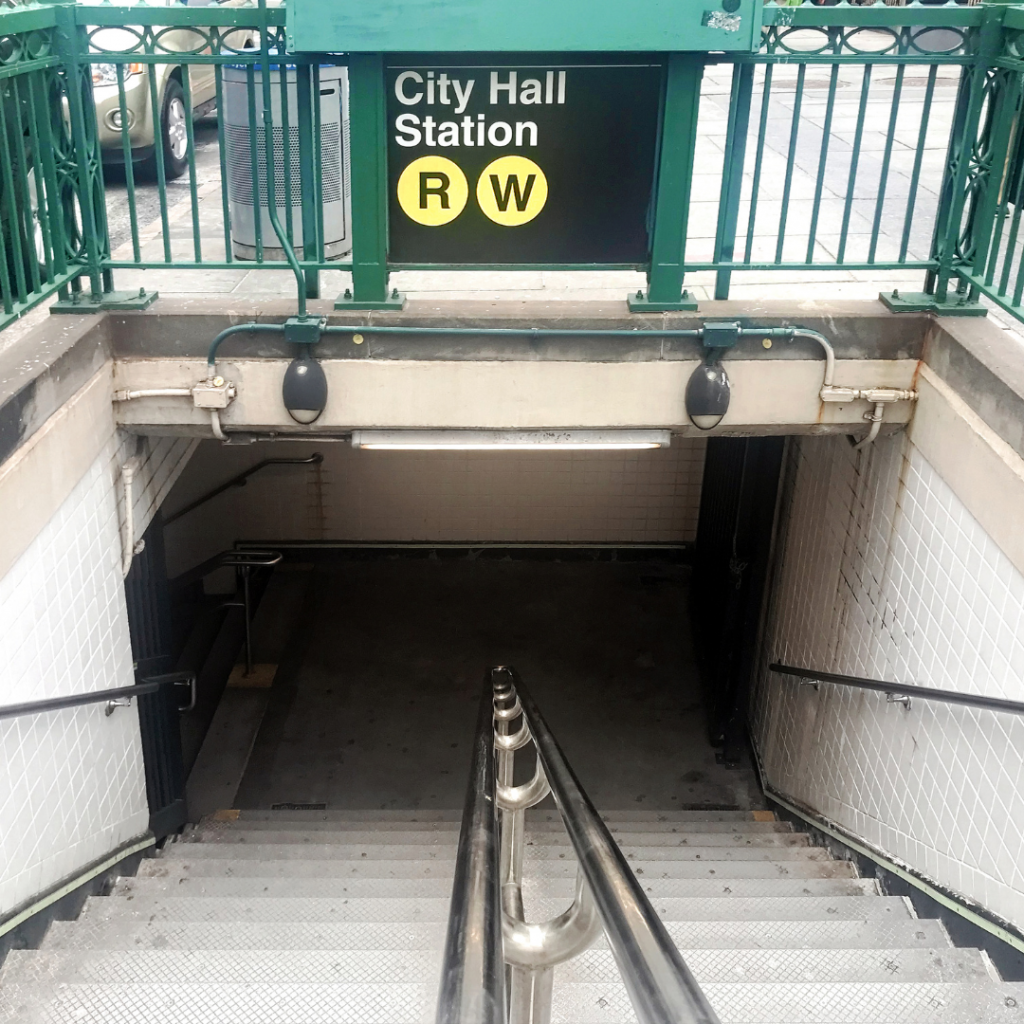 Where To Stay
Book A Hotel (Not Air Bnb)
New York is one place where you definitely want to stay in a hotel and not an Airbnb or vacation rental style accommodation.
Interestingly, New York has some of the toughest short term rental restrictions in the United States. As a result, it is technically illegal to rent out an entire apartment for less than 30 days unless the host is present and there are only one or two guests.
While you may be able to find an Airbnb that doesn't break these rules, it's not worth the risk.
Hotels can be expensive but there are a few ways to save money:
– Use sites like Hotwire or Priceline to find deeply discounted rates on hotel rooms
– Look for hotels that offer free breakfast or other amenities
Stay in Manhattan (But Not near Times Square)
When it comes to accommodation, it can be quite overwhelming for a first-time visitor to New York to decide where to stay. The sheer size of the city can be daunting, and there are so many different neighborhoods to choose from!
Having visited New York several times and stayed in a number of different areas, I would highly recommend staying in Manhattan for your first visit. It's the most central borough and home to many of the city's most popular attractions (It's also generally safer and cleaner than some of the other boroughs).
One thing to keep in mind is that the hotels in Manhattan are going to be pricier than comparable hotels in other boroughs. However, I would argue that it's worth paying a bit extra if you want to be close to the action.
While I'm all for staying in Manhattan I would avoid staying near Times Square if you can help it.
Yes it's a major tourist destination and it's fun to people-watch there but it's crowded, noisy, and full of tourists (yes…like you). Since Times Square is such a huge tourist spot, hotels and restaurants in that area tend to be overpriced too.
If you want to stay in Manhattan, but don't want to break the bank, look for hotels a little further uptown. You'll still be close to all the action but you'll save some money and avoid the Times Square craziness!
What To Eat And Drink
Try a classic New York slice of pizza
No trip to New York would be complete without trying a classic New York slice of pizza!
There are pizzerias on almost every corner, and it's hard to know which ones are actually worth your time (and money).
One place that I would recommend is Di Fara Pizza in Brooklyn.
It's a bit of a trek from Manhattan but it's definitely worth it for their delicious, authentic pizza.
Just be sure to get there early because the line can get pretty long!
Things To Do
Be prepared for long lines
Whether you're trying to get into a popular restaurant or just waiting to buy your morning coffee, expect to spend some time standing in line.
New Yorkers are notoriously impatient, so don't be surprised if people try to cut in front of you.
Just stay calm and don't let it ruin your trip!
Purchase A New York Pass
There's no doubt about the fact that New York City is expensive. Most museums and attractions that you'd want to visit cost anywhere from $15-$25 per person.
If you're planning on doing a lot of sightseeing, I would recommend purchasing a New York Pass.
For a flat fee, you can get access to over 80 different attractions throughout the city.
This is definitely the way to go if you want to save some money!
Some of the most popular attractions in New York City include:
– The Empire State Building
– Central Park
– The Statue of Liberty
– The Metropolitan Museum of Art
– Times Square
For a set price, you can get access to over 80 different attractions, including the Empire State Building, the Statue of Liberty, and Top of the Rock.
You can also use your pass to skip the line at some popular tourist spots.
Take The Hop On And Hop Off Bus
This is something I recommend regardless of where you're traveling. The Hop On and Hop Off bus is a great way to get your bearings and to see all the different neighborhoods and attractions that the city has to offer.
You can get on and off as many times as you want, and there's even an audio guide so you can learn more about the different places you're visiting.
You can purchase a one or two-day pass, and there are several different routes to choose from.
I also recommend doing some research ahead of time and picking out a few places that you want to stop at before you start the tour.
Make Sure To See A Broadway Show Or A Play
It would be a shame to visit New York without experiencing one of its most iconic cultural exports:
Broadway.
Even if you aren't normally into musicals or theatre, theres something about seeing a show in New York that just can't be beaten. You would be watching some of the finest talent in the world perform on stages that have housed some of the most groundbreaking and beloved shows of all time.
There are dozens of different shows to choose from, so there's sure to be something that interests you.
If you're on a budget, I recommend checking out the TodayTix app.
They offer discounts on last-minute tickets for Broadway shows and other attractions.
Visit A Museum
New York City is home to some of the best museums in the world. The Metropolitan Museum of Art, the Museum of Modern Art, and the Guggenheim are just a few of the must-see museums that call New York City home. No matter what your interests are, you're sure to find a museum that you'll love.
If you want to save some money, many museums offer free or reduced admission on certain days or for specific demographics (students, seniors, etc).
Be Aware Of Pick Pockets
This is something you should be aware of in any large city, but it's especially important in New York. There are a lot of tourists in the city at any given time, and pickpockets know that they're easy targets. Keep your valuables close to you at all times, and be especially careful in crowded areas like subways or Times Square.
You Can't See/ Do Everything In One Trip
This is probably the most important thing to keep in mind.
New York City is a huge, diverse place, and there's no way you can see or do everything in one trip.
Focus instead on seeing the things that interest you the most. Don't try to pack too much into your schedule.
If you're planning on coming back, you can always save some of the things you want to see for your next trip.
Be In The Moment
One of the best things about visiting New York City is that there's always something to do. No matter what time of day or night it is, there's always something going on.
But with so much to see and do, it can be easy to get caught up in trying to do everything and seeing everything.
My advice is to take it slow and just enjoy being in the moment. There's no need to rush from one place to the next. Just savor the experience and create some amazing memories!
I hope these tips have been helpful!
New York City is a dream destination. However, it is big, busy, and intense. That means your experience can be amazing and exhilarating, or overwhelming and scary. If you come prepared and follow the tips I've just shared for first time visitors to New York City, you should be one step closer to having one of the best times of your life.
Have fun and enjoy your time in the city!