Are you looking to make memories with a fun family outing that everyone is sure to enjoy?
Ripley's Aquarium of Canada is the largest indoor aquarium in Canada, and a family favourite in terms of kid friendly attractions in Toronto.
We live 30 minutes outside the city, and have had the privilege of visiting Ripley's Aquarium Toronto several times with our kids. Whether you live in the area, or visiting Toronto for the first time, there's a lot on offer at Ripley's.
In this blog post, we'll explore 10 reasons why this attraction is the perfect choice for your next family outing. From mesmerizing marine life to interactive exhibits, there's something for everyone to enjoy.
So, dive in and find out why a visit to Ripley's Aquarium Toronto is a must-do experience for families.
10 Reasons To Visit Ripley's Aquarium Toronto
1. Interactive Exhibits Allow You To Get Up Close and Personal with the Marine Life
At Ripley's Aquarium in Toronto, you can experience the wonder of marine life through interactive exhibits that allow you to get up close and personal with some of the ocean's most fascinating creatures. Here are just a few reasons why you won't want to miss out on these amazing exhibits:
One of the best things about Ripley's Aquarium is that you can get closer to the animals than you ever thought possible. In the Touch Tanks exhibit, you can actually touch and feel the stingrays as they glide by. Their skin is soft and touching them don't hurt you or them.
This is a great opportunity for kids to learn about these animals up close, and it's a unique experience that they'll never forget.
If you're looking for an even more immersive experience, check out the Dangerous Lagoon exhibit.
This exhibit features a moving sidewalk that takes you through a tunnel surrounded by a 750,000-gallon tank filled with sharks, sea turtles, and other marine life.
It's an incredible experience that will make you feel like you're right in the middle of the ocean!
This is our toddlers absolute favourite part of the aquarium. He couldn't quite believe how close we were to real live sharks.
Overall, the interactive exhibits at Ripley's Aquarium in Toronto are a must-see for anyone interested in marine life. Whether you're a child or an adult, these exhibits will leave you with memories that will last a lifetime.
Related Links:
2. Educational Experience
As a parent, I am always looking for fun and educational experiences that my children can enjoy.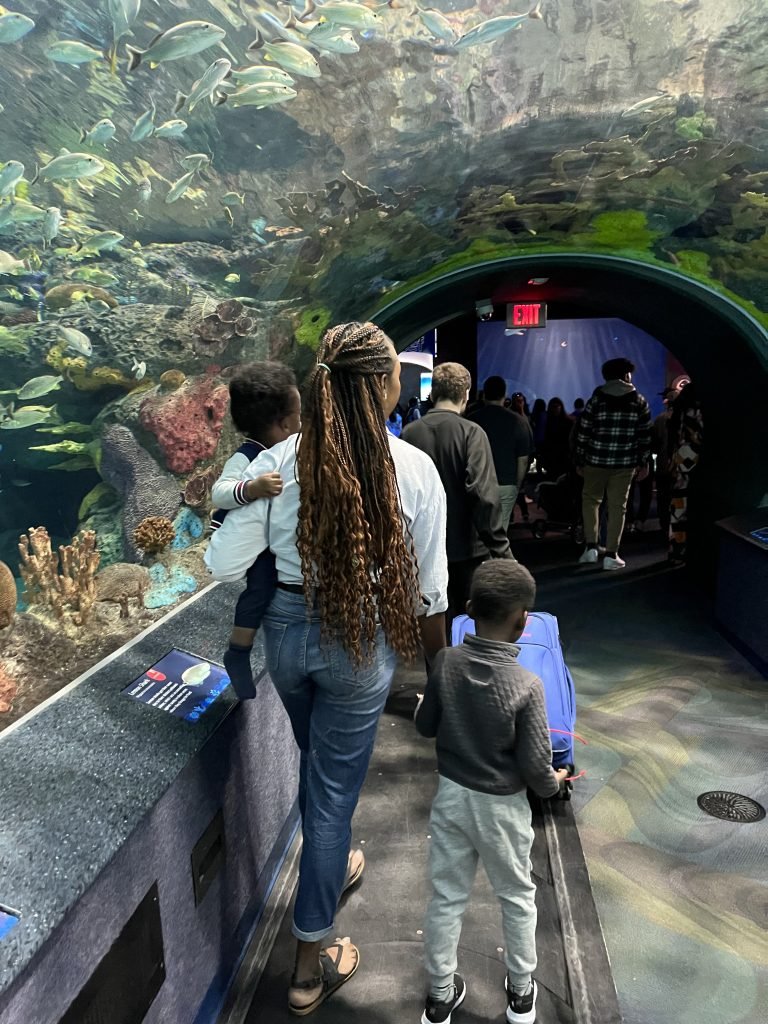 Ripley's Aquarium Toronto offers an educational experience that is both fascinating and informative for people of all ages.
With more than 20,000 marine animals on display, there is so much to learn and discover. Here are some of the reasons why Ripley's Aquarium Toronto is the perfect place to expand your knowledge of marine life:
Learn About 20,000 Marine Animals
Ripley's Aquarium Toronto has an impressive collection of marine life from all over the world. From sharks and stingrays to jellyfish and seahorses, there are over 20,000 animals on display.
The aquarium is home to several exhibits that showcase the diverse range of marine life, including the Dangerous Lagoon, Ray Bay, and Planet Jellies. Each exhibit provides an opportunity to learn about different species and their habitats, behaviors, and adaptations. The aquarium also offers interactive experiences, such as touch tanks, where visitors can get up close and personal with some of the animals.
When you visit Ripley's Aquarium Toronto, you will have the chance to learn about the amazing diversity of marine life and the importance of ocean conservation. The aquarium's knowledgeable staff is always available to answer any questions you may have and provide additional information about the animals and their habitats.
So, if you're looking for a fun and educational family outing, be sure to visit Ripley's Aquarium Toronto. With so much to learn and discover, you won't be disappointed!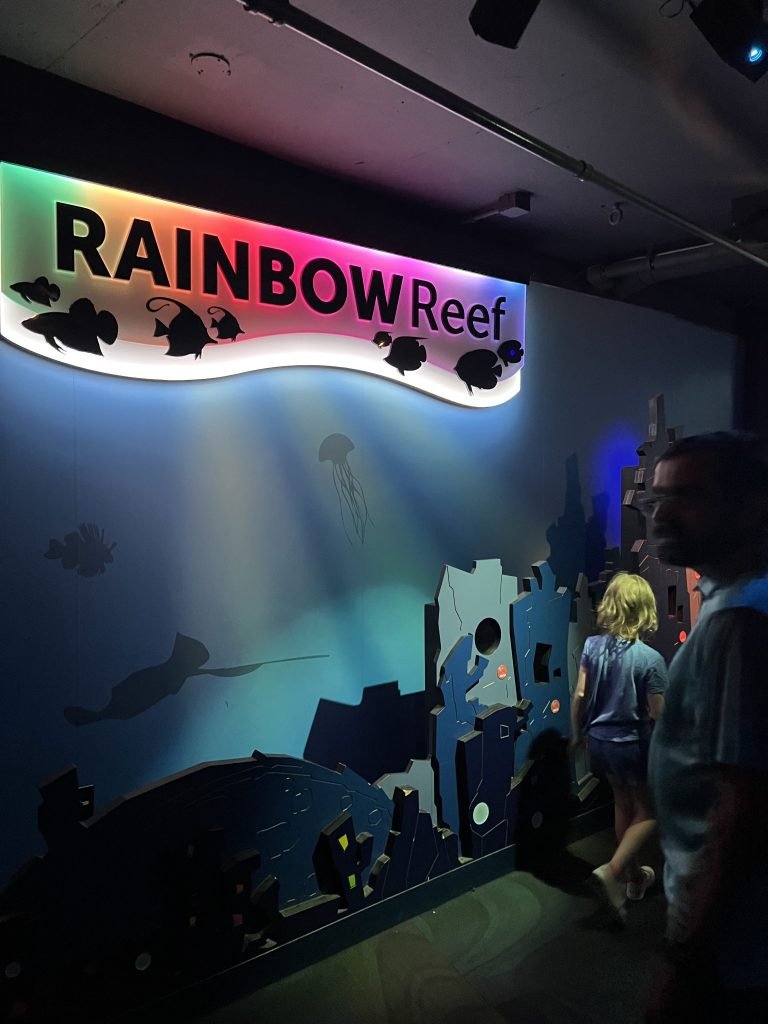 3. Family Friendly: Enjoy the Aquatic-Themed Playground
One of the reasons why Ripley's Aquarium of Canada is the perfect family outing is because of its family-friendly attractions, such as the aquatic-themed playground.
This playground is designed for kids of all ages and is a great way for children to burn off some energy while learning about marine life.
Interactive Play Area
The interactive play area features a variety of activities that are both fun and educational.
Kids are free to explore the different textures of a coral reef, slide down a giant octopus, and crawl through a tunnel that simulates the experience of being inside a fish tank.
This area is perfect for younger children who may not be old enough to appreciate the more educational exhibits, but still want to have fun.
Discovery Centre
The Discovery Centre is an excellent place for kids to learn about marine life in a hands-on way. There are interactive displays that allow kids to touch and feel different types of marine creatures, such as starfish and sea anemones. The centre also features a touch tank where kids can get up close and personal with freshwater creatures like turtles and frogs.
4. You Can Plan Unique Events
There are many special events held at the aquarium throughout the year, making it an excellent spot for families and groups looking for a unique experience. Here are some of the special events held at Ripley's Aquarium Toronto:
A Slumber Party To Remember
One of the most exciting events at the aquarium is the sleepover.
Spend the night with the fish and enjoy a variety of activities tailored to the experience. You'll have the chance to explore the aquarium after hours, participate in a scavenger hunt, and even enjoy a movie screening.
SLEEPOVERS AT RIPLEY'S INCLUDE:
Admission to the Aquarium for the evening and the following day
Hands-on, take-home activity in the classroom
A late-night snack and morning continental breakfast
Spend a night sleeping in the Dangerous Lagoon tunnel
And more!
TIME: 8:00 p.m. to 9:00 a.m.
COST:
General Admission: $110.00 +HST per person
Nonprofit Groups: $85 +HST per person
Annual Passholders save 20%.
Family sleepovers are also available. However, participants must be at least 5 years old.
Visit Ripley's Sleepover Program for more information on this program and to find out available dates. The spots fill up fast, so make sure to keep an eye out and plan ahead, if this is something that you'd be interested in doing with you family.
Birthday Parties
Ripley's Aquarium Toronto is an excellent place to celebrate a birthday.
The aquarium offers a variety of birthday packages to choose from, tailored to different age groups and interests.
Packages include admission to the aquarium, a party room, and a special gift for the birthday child. You can also add on extras like a private animal encounter or a behind-the-scenes tour.
For more information on birthday parties at Ripley's Aquarium: Birthday Parties .
And More
In addition to sleepovers and birthday parties, Ripley's Aquarium Toronto offers a variety of other special events throughout the year. Check out the website to see upcoming events like Family Day, Valentine's Day, and March Break. There are even events tailored to adults, like the Friday Night Jazz series.
No matter what event you choose, Ripley's Aquarium Toronto is sure to provide a memorable experience for the whole family. Don't forget to purchase tickets in advance and check the website for any updates on upcoming events.
5. Accessibility at Ripley's Aquarium Toronto
If you're planning a trip to Ripley's Aquarium in Toronto with a wheelchair or stroller, you'll be pleased to know that the aquarium is fully wheelchair and stroller accessible.
Here are some of the accessibility features that the aquarium offers:
Entrances and Ramps
There are two entrances to the aquarium, one on the east side and one on the west side. Both entrances have ramps that can be used by guests with restricted mobility, wheelchairs, and strollers. The East ramp can be accessed at Bremner Blvd., and the West ramp can be accessed between the Aquarium and the CN Tower.
Parking
For guests with valid accessible parking passes, there are two parking spots available on the east side of the building. These parking spots cannot be reserved and are available on a first come first serve basis.
Wheelchairs
If you need a wheelchair during your visit, Ripley's Aquarium of Canada has a limited number of manual wheelchairs available at Guest Services free of charge. A piece of government issued photo ID is required to use a wheelchair.
Assistive Devices
Assistive devices are welcome at the aquarium, and the staff will not touch or move assistive devices without permission. If we need to move your assistive device, we will make sure to keep it within your reach.
Service Animals
Ripley's Aquarium of Canada allows service animals without official documentation. If you have a support animal, you can contact the Guest Services team at TGServices@ripleys.com before your visit to request official paperwork.
Sensory Information
Many areas of the aquarium have lower lighting to ensure an optimal viewing experience of the exhibits. Sensory Mornings are held on the first Sunday of every month and have additional lighting. For more details, click here.
Restrooms
There are three washrooms in Ripley's Aquarium of Canada. The first is located immediately upon entry. The second is located in the Discovery Centre at the halfway point of the tour. Our family washroom has an adult changing table, located near upper Ray Bay towards the end of the tour.
At Ripley's Aquarium Toronto, they're committed to accessibility for all visitors and they're dedicated to removing barriers to participation for guests with disabilities. If you need any further information about the accessibility features of the aquarium or any other information, you can contact the Guest Services team at TGServices@ripleys.com.
6. Located In A Central Location
Ripley's Aquarium of Canada is located in the heart of downtown Toronto, making it a convenient and accessible destination for families looking for a fun day out.
Whether you're a local or a tourist, the aquarium is easy to get to by car, public transportation, or on foot.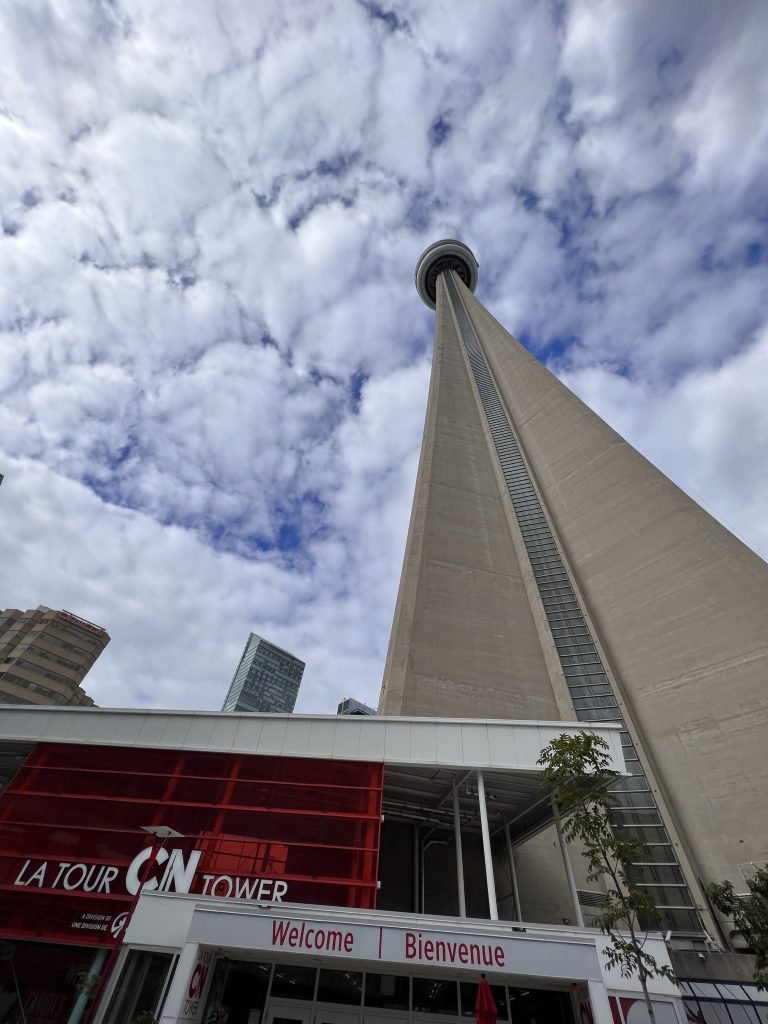 Accessible by Public Transportation
For those who prefer public transportation, the aquarium is just a short walk from Union Station, the major transportation hub in Toronto. From there, you can take the subway, GO train, or streetcar to other parts of the city.
The nearby Harbourfront streetcar takes you from Union Station and stops right in front of the aquarium.
Plenty of Parking Options
If you're driving, there are several parking options available near the aquarium.
The aquarium itself has an underground parking garage, which is convenient and close by.
There are also several public parking lots and street parking spots located within walking distance.
7. Located Near Other Attractions
Ripley's Aquarium of Canada is located in an area of downtown Toronto that is home to several other major attractions, including the CN Tower, the Rogers Centre, and the Toronto Railway Museum.
Families can easily spend a whole day exploring the area and taking in all the sights and sounds.
Overall, the central location of Ripley's Aquarium of Canada makes it the perfect family outing. Whether you're arriving by car or public transportation, the aquarium is easy to get to and conveniently located near other major attractions.
8. Variety of Exhibits
With nine different galleries to explore, there is something for everyone to enjoy at Ripley's Aquarium. Whether you are interested in fish, sharks, or other marine animals, you will find it all here.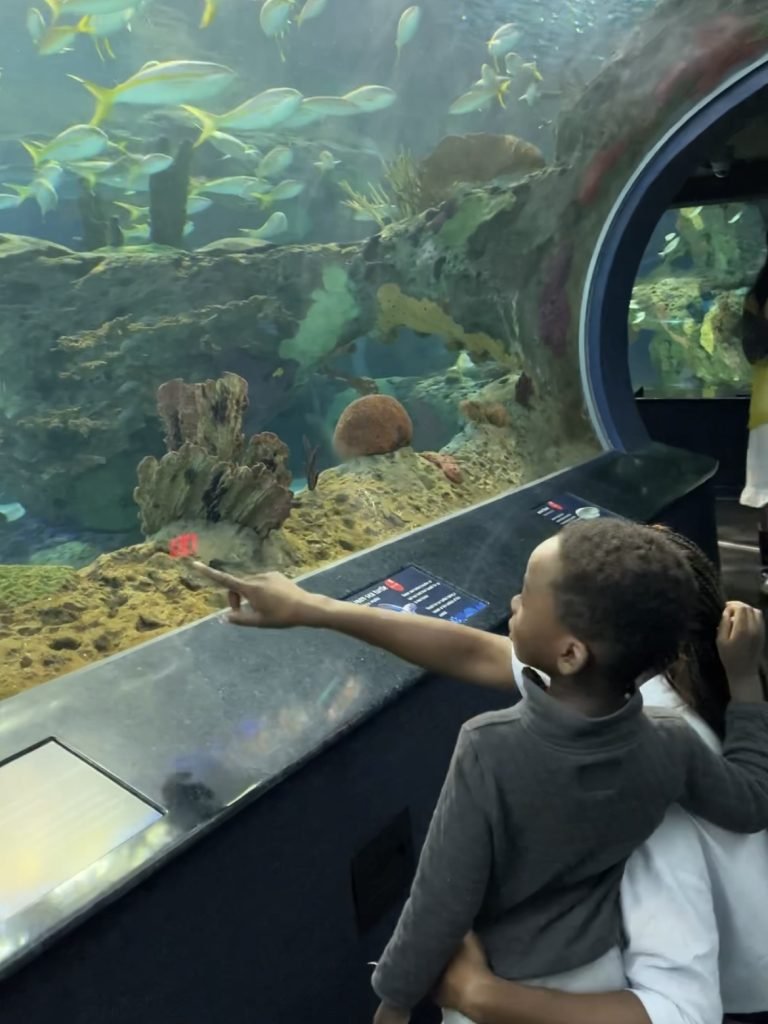 9. They Are Committed Conservation Efforts
Ripley's Aquarium Toronto is committed to the conservation and protection of marine life. The aquarium participates in several conservation programs, including the Seafood Watch program and the Ocean Wise program. These programs help to ensure that the seafood served at the aquarium's restaurants is sustainable and that the marine animals in the aquarium are well-cared for.
If you are interested in learning more about marine conservation, Ripley's Aquarium Toronto offers several educational programs and workshops for all ages.
10. Many Wonderful Photo Opportunities
As a blogger, I know how important it is to capture memories whenever you can.
As a parent, I also recognize how fast time flies and the importance of capturing lasting memories.
The aquarium is filled with various exhibits, and interactive displays that make for great photo opportunities.
The aquarium provides the perfect backdrop for family portraits and fun group photos that will undoubtedly be cherished for years to come.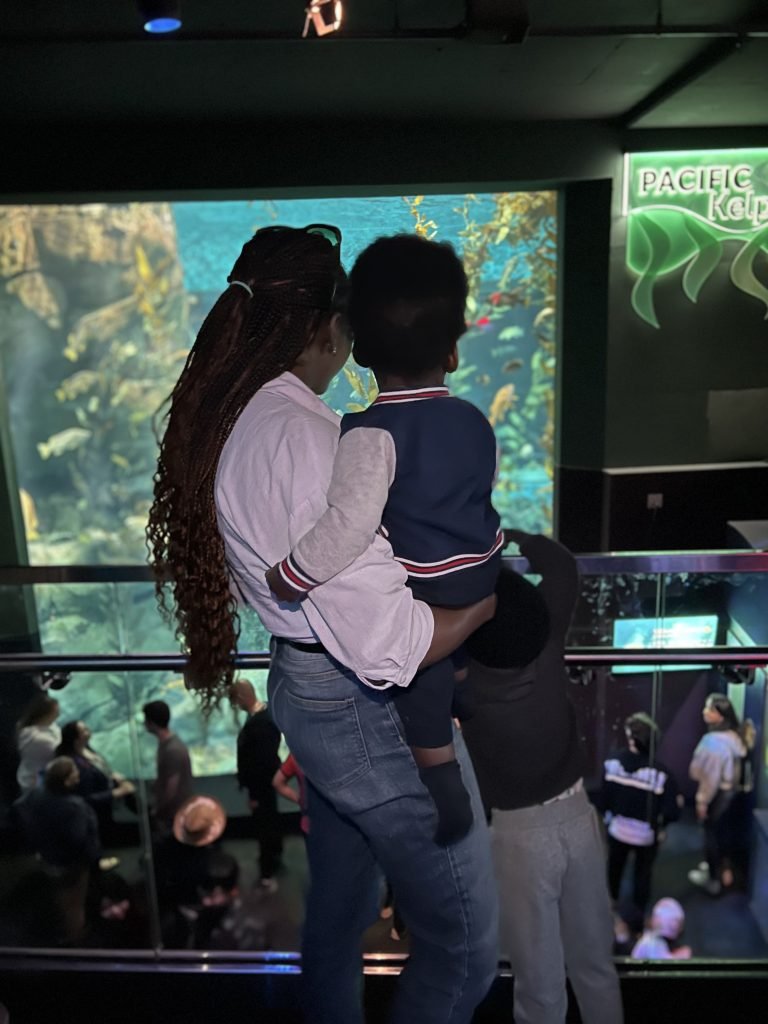 11. (BONUS REASON TO VISIT RIPLEY'S AQUARIUM) They Are Open 365 Days A Year
One of the great things about Ripley's aquarium Toronto is the fact that it's open year round.
This allows locals and tourists to escape the monotony of everyday life and immerse themselves in a breathtaking underwater world.
Ripley's regular hours of operation is: 9:00 a.m. – 9:00 p.m daily.
They have extended hours in the summer months (May- Early September) and are open from 9:00 a.m. – 11:00 p.m daily.
Check the calendar on Ripley's website before you visit as the hours change occasionally for private events.
Handy Visitor Tips
It's advise that you purchase your tickets before you arrive to avoid standing in long lines when you arrive.
You are allowed to take pictures inside the aquarium. However, only hand-held cameras are allowed and it's advised that you avoid using flash for the best pictures. For a commercial photography service or video, you would require special permission.
Children under two do not need a ticket to visit the aquarium. They can enter for free. Make sure you bring government issued photo ID incase you are asked for proof of your child's age.
Outside food and drink is not permitted inside the aquarium. There is a cafe located inside which is open daily from 10:30 a.m. – 8:00 p.m.
Conclusion
Ripley's Aquarium Toronto is the perfect family outing for so many reasons.
From the incredible variety of marine life to the interactive exhibits that cater to children of all ages, there is something for everyone to enjoy.
Not only that, but the aquarium also offers unique experiences like sleepovers and behind-the-scenes tours for visitors who want to create unforgettable memories.
As the recent celebration of the 10 millionth guest shows, Ripley's Aquarium Toronto truly goes above and beyond to make every visitor feel special and valued.
So why not plan your next family outing at this amazing attraction and start making your own memories?